Now Available: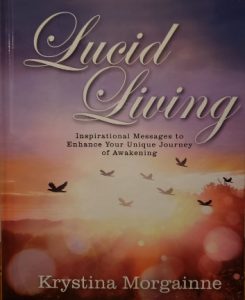 "Lucid Living: inspirational Messages to Enhance Your Unique Journey of Awakening", by Krystina Morgainne
A beautiful large-size hardcover book that is sure to become a treasured part of your spiritual library, Lucid Living features Krystina's inspirational messages.  Each entry is  illustrated with gorgeous full-color photographs.
Measures 8.5″ x 11″. 192 pages. Text Krystina at (805) 795-7557 to order your copy.