Living in the WOW is a simple approach to creating a life which offers unlimited WOW moments and teaches ways to transform challenges into personal strength and power.
This spiritual foundation will allow you to discover your unique way of Living in the WOW.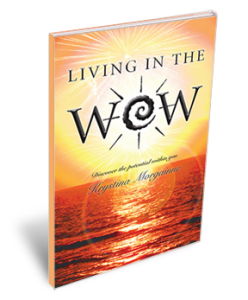 Create Sacred Space in your home
Discover the beauty of Gratitude
Learn the power of Acceptance
This approach has assisted thousands of clients around the world to embrace an empowered life with joy and confidence.
Please note: The hard copy version of the book has sold out, but you can still get the e-book!
NEW! Living in the Wow E-book - $9.99
Get your e-book delivered right away from Amazon:
Get the Kindle Version at Amazon now!