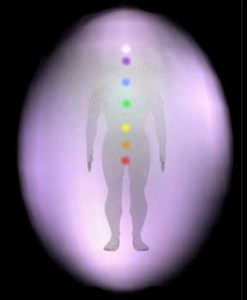 As electromagnetic beings, each one of us radiates with unseen energy and frequencies.  This energy is called an Aura and can be quite large when fully functional and healthy.  It contains seven major layers powered through seven major energy centers called  Chakras and is energized by the Kundalini, or Life Force.
This amazing system captures information regarding the colors of your aura, the health and vitality of your chakras and overall energy balance. It can be useful as a tool of self exploration and guidance for meditation and working with an energy healer.
During healing or meditation, Universal Energy is absorbed into the body creating a state of expansive energy, joy and personal growth. Energetic Healing is very holistic and can be used in conjunction with traditional Western healing methods to assist in accelerating harmony and balance.
The Aura is a living, pulsing, ever changing energy field, which changes as quickly as our moods; however, the core color of the aura changes more slowly and signifies one's basic personality traits and spiritual level. Many Auras are damaged by negativity, injury, trauma and the environment. It is not unusual to repair an imbalance in the aura years after the physical body has healed. "Before and After" aura photos can show the immediate changes in the aura from just one session.
Aura photo plus 23 page Chakra Analysis Report – $50  (order it here)
Aura photo – $25
Chakra photo – $25
Add a full report to any 1 hour session for just $25.
Contact Krystina to schedule your Chakra Analysis photos and report.
See a sample PDF of a Chakra Report report here. (Use the arrows at the bottom left to navigate through the report.)
chakrareport
.